This past weekend concluded the final addition to this year's SikhLEAD Summer Education Series. As a part of the SikhLEAD Summer internship program, participants go through an intensive series of sessions and workshops with a variety of accomplished speakers.
Conversation with The White House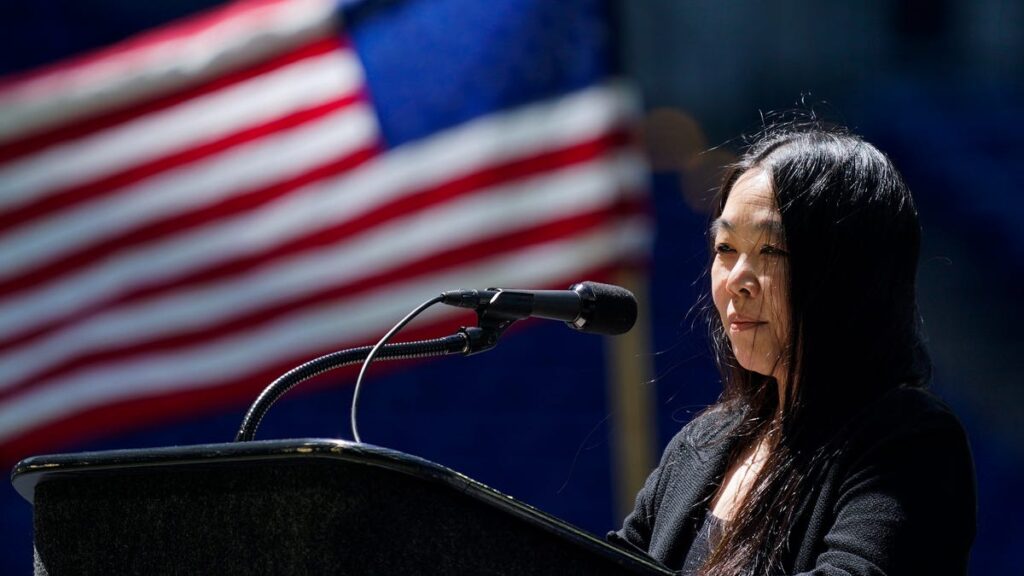 On August 7th, SikhLEAD interns were joined by the Deputy Assistant to the President and AA and NHPI Senior Liaison, Erika Moritsugu. Throughout her career, Erika has done extensive work pushing for social justice and the empowerment of underrepresented communities. Describing her position, Erika said: "commitment to really hearing and seeing and valuing every aspect of our communities–I get to execute on that vision, and I get to build it."
Erika has become increasingly involved with the Sikh American community, especially after the tragic FedEx Mass Shooting occurring in April of 2021. She works directly with SALDEF's own Executive Director, Kiran Kaur Gill, in addressing the needs of the broader Sikh American community.
Erika stressed the importance of volunteering one's time to intern for a greater cause, encouraging SikhLEADers to continue striving to be leaders in their communities. After showing the group a picture of Vice President Kamala Harris, Kiran Gill, and herself sitting together in the White House, Erika so eloquently told the class, "we hope you will exceed–build on and exceed–this picture right here."
"Understanding the Importance of Mental Health" Fireside Chat with Sahaj Kohli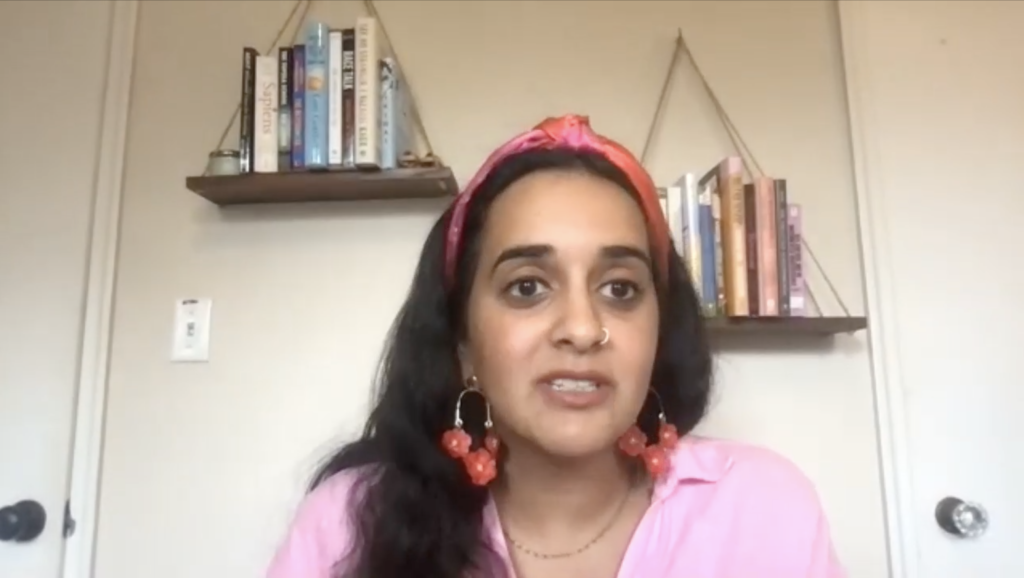 On June 19th, mental health expert Sahaj Kohli joined SikhLEADers for a discussion on mental health, specifically in the South Asian, Sikh, and other immigrant communities. Sahaj is the founder of Brown Girl Therapy (@browngirltherapy), the first and largest mental health and wellness community organization for children of immigrants. Sahaj discussed the importance of seeking therapy and eliminating the stigma around the topics of mental health, getting professional help, and spreading awareness about these issues.
About the session, SikhLEADer Jasleen Gosal said, "I really appreciated Sahaj's honesty and openness while discussing mental health with us. Although Gurbani speaks directly about the many issues afflicting our minds, this topic is still widely pushed under the rug in the Punjabi-Sikh community–making it all the more important for us to normalize talking about it! I find the work that Sahaj is doing through Brown Girl Therapy to be so very important and inspirational, and I'm really glad that we got to hear from her directly!"
Leadership Development Workshop with Deanna Singh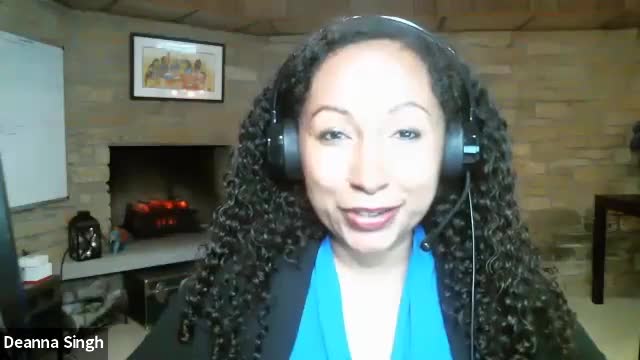 On July 12th's Saturday Speakership session, SikhLEADers learned how to find their purpose from accomplished author and social entrepreneur Deanna Singh! Deanna is the founder of Flying Elephant, an initiative containing a number of other ventures, including Story to Tell Books, Uplifting Impact, and Birth Coach Milwaukee.
During the session, Deanna guided SikhLEADers through her inspirational life story and explained how, through multiple opportunities and endeavors, she was able to begin discovering her passion and sense of purpose. The discussion centered around the idea of using one's own unique talents, passions, and skills to make a lasting impact in the world and in their local communities.
"Through the fear mitigation strategies she shared, Deanna's presentation helped me to find the courage to choose to pursue my passions," shared Kareena Grewal, a member of the 2021 SikhLEAD class.
Sikhs in the White House & Congress

On Saturday June 26, SikhLEADers were joined by four Sikh Americans working in the White House and on Capitol Hill, in a discussion about their experiences and their accomplishments on the job and prior to it. The panelists included Priyanka Hooghan, SikhLEAD '12, (Democratic Staff Director of the Environment Subcommittee of the House Committee on Science, Space, and Technology); Gurwin Ahuja (Director in the Strategic Communications Division at The Glover Park Group); Manpreet Kaur Teji (Associate Counsel for U.S. Senator Dick Durbin (IL)/Senate Judiciary Committee); and Nimita Uberoi, SikhLEAD '12, (Advisor to the Principal Deputy National Security Advisor, Jon Finer).
These accomplished individuals provided SikhLEADers with valuable career and personal advice, and also shared experiences regarding their life journeys before and after getting into the government. In addition, they discussed the impact that Sikhi and the values important to them have had on their work and personal initiatives.
The session ended with a presentation by Rubin Paul Singh, who led a thought-provoking exploration into what makes Sikh Activists so unique. Rubin Paul used the example of Guru Tegh Bahadur Ji, or Shrisht Di Chadar, to show SikhLEADers what the ultimate activist looks like. He explained how the Sikh Gurus laid a framework for Sikhi-based activism for our use–a framework that is just as relevant today as ever before.
Sikh Elected Officials Panel
During July 17th's Saturday Speakership session, SikhLEADers heard from three Sikh elected officials, including Senator Manka Dhingra from Washington state, Council Member Mikey Hothi from Lodi, California, and Representative Ranjeev Puri from Michigan, as they discussed their experiences of working in government spaces as Sikh Americans.
After explaining what caused them to run for their respective offices (including the 2016 election results and the lack of diversity in government spaces, among other reasons), the three encouraged SikhLEADers to take the lead in their own communities and to allow their Sikh values to be the guiding force in their public service endeavors and lives. SikhLEADers appreciated their transparency while discussing both the benefits and the challenges of being a Sikh in elected offices, including dealing with harmful assumptions held by many Americans about their religion and identity.
SikhLEADer Mehnaz Grewal shared, "It was incredible hearing about the Sikh experience of elected officials across the country. I especially appreciated their candid advice and their willingness to speak to us or help out even after the call!"
SikhLEAD Alumni Panel
On July 24, SikhLEADers were able to have one-on-one conversations with a number of SikhLEAD alumni, all with unique backgrounds and a wealth of experiences and advice! SikhLEADers were allowed to choose which alumni they wanted to speak with, based on their educational and personal interests/passions.
The Alumni joining us for this event included:
Jasleen Singh (SikhLEAD '11), Deputy Attorney General at the California Department of Justice
Apaar Anand (SikhLEAD '18), Rising Senior at Washington University in St. Louis
Kamya Arora (SikhLEAD '16), Second Year Student at UC Hastings Law in San Francisco
Ravnit Bhatia (SikhLEAD '13), Geriatric Medicine Fellow at Stanford University
Sahiba Borisuth (SikhLEAD '17), Community Affairs Lead at Instacart
Parminder Deo (SikhLEAD '15), Administrative Fellow at Texas Children's Hospital
Prabhdeep Singh Kehal (SikhLEAD '14), Doctoral Candidate at Brown University
Jaywin Singh Malhi (SikhLEAD '12), Litigation and Investigations Associate at Kirkland & Ellis LLP
Hana Mangat (SikhLEAD '20), Rising Senior at Columbia University
Harnek Neelam (SikhLEAD '14), Associate at McKinsey & Company
Gurpreet Sarin,(LDP '11) Managing Consultant
Angad Singh (LDP 4), Investment Banking Analyst
Harmann Singh (SikhLEAD '14), Associate at Kaplan Hecker & Fink LLP
Jyot Singh (SikhLEAD '19), Deputy Press Secretary for Mike Rosenbaum for Maryland
Manjot Singh (SikhLEAD '13), First Year Student at Berkeley Law
Neal Singh (SikhLEAD '13), Orthodontics Resident at Jacksonville University School of Orthodontics
Mehr Suri (SikhLEAD '17), Incoming Associate at the Boston Consulting Group