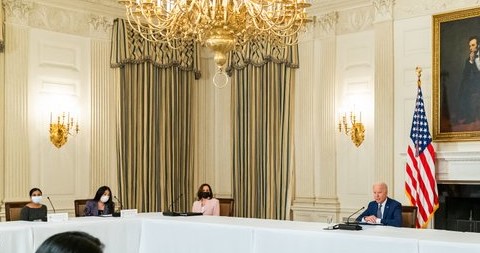 WASHINGTON, DC – Yesterday, SALDEF met with President Joseph R. Biden and Vice President Kamala Harris with a coalition of twelve other Asian American, Native Hawaiian, and Pacific Islander civil rights leaders to discuss voting rights, anti-Asian hate, immigration, and economic opportunity.
"We thank President Biden and Vice President Harris for starting a direct conversation with the Sikh American Legal Defense and Education Fund (SALDEF) and other Asian American, Native Hawaiian and Pacific Islander (AANHPI) civil rights leaders on the issues impacting our communities," said Kiran Kaur Gill, Executive Director of SALDEF. "We thank President Joe Biden and Vice President Kamala Harris for opening the meeting by acknowledging the ninth anniversary of the attacks on Oak Creek and the impact of hate on our community."
At the meeting, we addressed the need for investments into the Sikh American community, including the need for increased outreach and support for our communities before and after acts of hate and discrimination, promoting the inclusion of Sikh Americans in public service, and the need for more government resources in Punjabi and other AANHPI languages.
"We appreciate that the President and Vice President took the time to acknowledge the impact and ongoing needs of the April FedEx shooting in Indianapolis on the victims, their families, and the sangat in Indianapolis. We value this Administration's genuine enthusiasm in engaging with our communities while understanding our diverse makeup and needs. Yesterday's meeting was only the first step in continuing to build a dialogue directly with the President."
SALDEF thanks its fellow members of the National Council of Asian Pacific Americans (NCAPA) and members of the Administration, including Deputy Assistant to the President and Asian American and Pacific Islander (AAPI) Senior Liaison, Erika Moritsugu, Associate Director at the White House Office of Public Engagement Howard Ou, and Executive Director of the White House Initiative on Asian Americans, Native Hawaiians, and Pacific Islanders (WHIAANHPI) Krystal Ka'ai, for their continued work with the Sikh American community.
Source; SALDEF and AANHPI Leaders Meet With President Biden and Vice President Harris – SALDEF