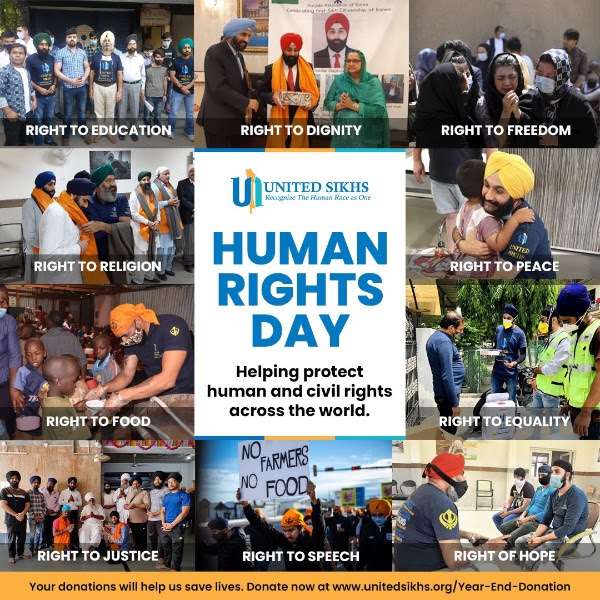 The International Human Rights Day marks the day the UN General Assembly adopted the Universal Declaration of Human Rights (UDHR) in 1948. This landmark Declaration explains the rights all individuals in member states are entitled to, which are inalienable "regardless of race, colour, religion, sex, language, political or other opinion, national or social origin, property, birth or other status." The UN chooses a theme every year—this year, the theme relates specifically to equality talked about in Article 1 of the UDHR, which states that "all human beings are born free and equal in dignity and rights."
In forming the Sikh religion, Guru Nanak Dev Ji focused his philosophies on human rights of all people, even for those uninvolved with Sikhism. Guru Nanak Dev Ji dedicated his life to fight for the preservation of social justice and human rights, fighting the repression forced onto his supporters and creating a new ideal of equity and justice for all. Guru Nanak Dev Ji's Bani outlines these rights he thought to be absolute, condemning harsh and unforgiving regimes, dishonesty, people who exploit the lives of others, and violent cruelty from one man unto another. Guru Nanak Dev Ji also condemned his followers for subjecting themselves to the treatment oppressive rulers had forced onto them, urging supporters to be aware of their basic absolute rights to prevent tyrannical regimes. The following Gurus devoted their teachings and lives to similar ideals that Guru Nanak Dev Ji revolutionized, serving those with less of a voice and revolting against oppression. Guru Teg Bahadur Ji, the 9th out of 10 Gurus considered to have founded Sikhism, was beheaded in 1675 for his resistance against oppressive religions—more specifically, he fought against the forced conversions of Hindus under the oppressive Islamic fundamentalist regime, giving his life for the Hindu religion and their religious freedom and human rights.
An ongoing project UNITED SIKHS focuses on is titled the Know Your Rights Project, an effort centered on educating immigrant communities on the rights available to them as US residents. Aiming to bridge the gap between the government and communities, Sikh or otherwise, KYR assists immigrant communities in recognizing what resources are available to them and advising communities on legal issues in their US residency.
UNITED SIKHS also works to gather information on hate crimes and bias crimes incidents occurring throughout the world, specifically against Sikh communities. The goal is for UNITED SIKHS to collect data representative of anti-Sikh hate and bias crimes in order to ensure the acknowledgement of guaranteed basic human rights in agreement with the UN UDHR.
UNITED SIKHS has also been working diligently to provide legal services and assistance for refugees needing to seek asylum or official refugee status within the United States. UNITED SIKHS' work surrounding refugees has more recently been focused on the Afghan refugee crisis following the government takeover by the Islamic State, providing those looking to enter the United States with the legal information they need to do so.
UNITED SIKHS' branch of International Civil and Human Rights Advocacy focuses efforts on domestic and international projects relating to both Civil and Human Rights. In accordance with our mission statement, which means "to transform, alleviate, educate and protect the lives of underprivileged, individuals and minority communities impacted by disasters, natural or man-made, suffering from hunger, illiteracy, diseases, or from violation of civil and human-rights into informed and vibrant members of society by fostering sustainable programs regardless of color, race, religion or creed," ICHRA has dedicated time to serving communities with various projects.
Manwinder Singh
Advocacy Director
Recognize the Human Race As One