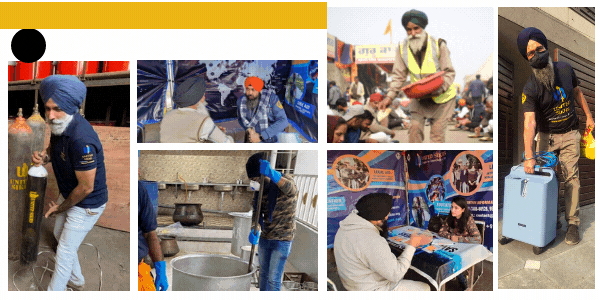 Jasdev Singh answered the phone with a hello but little else could be heard. He sent a WhatsApp message saying "Can we please speak tomorrow. I am traveling by train at the moment."
The next day when Jasdev Singh answered the phone he said "Hello, I am at Singhu Border. A child is addressing the farmers on the stage. Can you hear me?"
Jasdev Singh had traveled overnight from Bengaluru in South India to be at Singhu Border to join teams of UNITED SIKHS volunteers serving farmers for over a year.
His role as a UNITED SIKHS volunteer in Bengaluru ranged from delivering langar or free meals during India's first lockdown to thousands of migrant laborers to becoming in charge of providing Oxygen concentrators to triage centers or individuals in their homes.
"It's an unbelievable feeling. To know someone is waiting for you to give them their only meal of the day," Jasdev Singh said. "To see that smile on their face made me feel I was doing something meaningful. The work as part of UNITED SIKHS gave me confidence and recognition from my teachers and colleagues."
As he stood at Singhu Border, the historic and iconic spot where farmers won their rights, Jasdev said "I'm proud and humbled wearing the UNITED SIKHS jacket. It says 'UNITED SIKHS, Human Rights, but, most of all, Selfless Service."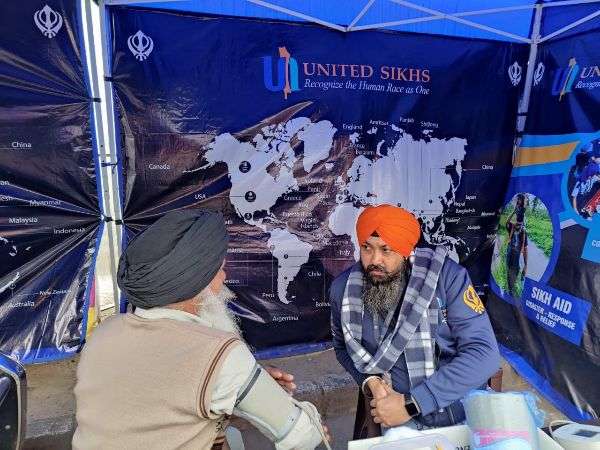 Not too far away in Delhi's Subhash Nagar, the humble Jaspal Singh, 44, a travel business owner, reluctantly tells his story of volunteering. He says it's hard on the heart to dig deep and relive the tragic tales from 10 years of service as a UNITED SIKHS volunteer.
From taking his taxi to Uttarakhand to rescue flood victims in 2013 to entering Covid hit homes to conduct the last rites of Covid victims, Jaspal Singh has seen it all.
But one story stands out for him.
He along with Paramjeet Singh, another UNITED SIKHS volunteer, received a call to go to a house where a mother had died due to Covid in early 2021. She needed to be cremated. When they entered, a boy appearing 12 years old but was actually 18, received them. His father and sister both had Covid and were on Oxygen support. They wrapped the body of the mother and took it to the cremation grounds.
A few days later the handicapped father needed a hospital bed. He got one but unfortunately succumbed to COVID. Jaspal Singh and Paramjeet cremated his body also. They delivered ration and monthly groceries to the brother and sister who have lost both parents.
"This story just breaks my heart. It haunts me. I can't forget it," Jaspal Singh said.
Often, the trauma isn't the only pain of throwing yourself in service.
"My son and I both got Covid but I haven't sat at home for two years. He doesn't say it but I know his friends are proud of his father. UNITED SIKHS allowed me to be proud, to be known, to do service" Jaspal Singh said.
It is the noble thoughts and deeds of such UNITED SIKHS Volunteers that deserve our salute, recognition, applause, and unconditional support.
UNITED SIKHS salutes our brave volunteers and donors.
You make our mission and vision manifest in real life.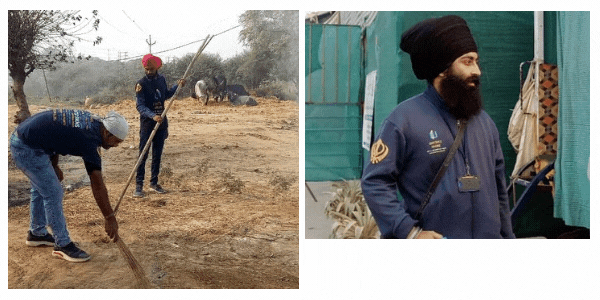 Gurvinder Singh
International Humanitarian Aid Director
Recognize the Human Race As One