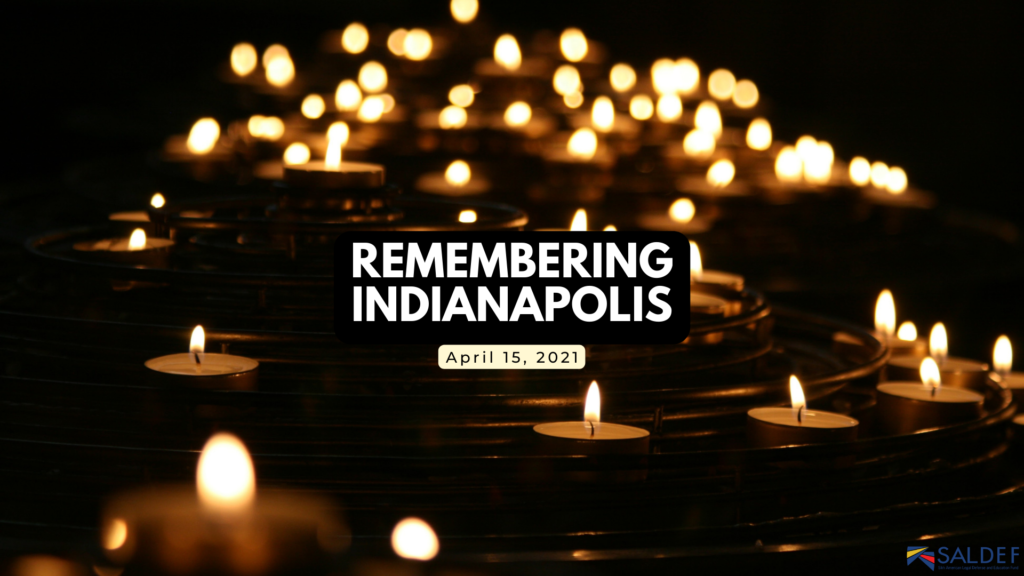 Washington D.C. – (April 15, 2022) On this day last year, eight Americans were killed in a senseless mass shooting in a FedEx facility in Indianapolis, Indiana. Together we remember them: Amarjeet Kaur Johal, Amarjit Sekhon, Jasvinder Kaur, Jaswinder Singh, Matthew Alexander, Samaria Blackwell, John Weisert, and Karli Smith. Of the eight, four were Sikh Americans. Today, we honor the victims and their families and offer the community a safe space to heal, reflect and react. Mass shootings continue to plague our nation, and no community has been spared from this ultimate form of violence. Our organizations condemn all forms of violence and vow to continue fighting for all groups affected by horrific tragedies. We are grateful to those who have given and shown support to the Indianapolis community and all who have provided resources to aid the victims' families. The unity we have seen from the broader community is inspiring, and we hope to continue seeing this level of solidarity.
As organizations we commit to organizing in our communities, supporting their needs and mental health, educating the public about anti-Sikh hate and bias, encouraging our broader community to start a dialogue, offering venues of reflection, and spreading awareness through various networks.
According to Sikhism, life and death are threads of the same fabric. Healing from death can be an enormous undertaking, but Sikhs take comfort in the inescapable circle of life. Death can offer rare moments of actualization and clarity which inspire change in times of meaningless crime, genocide, tragedy, and hate. Sikhs also believe that Seva (selfless service) is the purest form of acceptance that leads to healthy healing. Therefore we will continue to offer services, support, and representation to those affected by this shooting.
We believe that all levels of government must invest in the impacted communities and take steps to prevent further tragedies across the country. We believe that the government has a duty to make its services culturally and linguistically accessible to all communities. We believe that our leaders must take action to end hate, misogyny, and white supremacy. We believe that impacted, immigrant and minority communities must be treated as equal partners to improve society.
The Sikh American community and the broader Indianapolis community have remained strong in times of great sadness. The concept of hukam (divine order/acceptance) allows Sikhs to deal with death and violence constructively while promoting perseverance. As we enter National Sikh Awareness month, we encourage all our partners and community members to educate themselves about the fundamentals of Sikhi, visit a local Gurdwara and start a dialogue between friends and family about Sikhi. All communities must stand up to hate and violence, regardless of motive, through education, awareness, and action.
Recently, an elderly Sikh man in New York City was attacked early in the morning while walking to one of the Gurdwaras in Richmond Hill, Queens. Before that, a Sikh cab driver was beaten by an unruly individual at JFK airport. New York has one of the highest populations of Sikhs in the entire nation, and we continue to see violence against our community permeating through even the most densely populated Sikh areas. As the Sikh community and the broader Indianapolis community continue to grapple with grief and trauma, SALDEF and the undersigned organizations will continue to find powerful ways to facilitate healing and offer meaningful solutions to combat violence.  We will honor the victims, assist their families, and continue and recommit our vow to provide care for all communities on this anniversary.