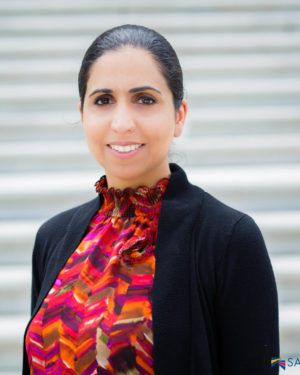 Ms. Gill is an accomplished professional with exemplary executive experience. In her role as Executive Director, she is responsible for executing and overseeing programs related to policy, research, education, civic engagement, and youth leadership for the Sikh American community. Prior to coming on board as Executive Director of SALDEF, Ms. Gill was a volunteer trainer for SALDEF conducting Sikh Awareness training around the country for schools, law enforcement, and state/local government and she worked with the New Jersey Attorney General's office to develop statewide curricula. She also helped to establish the SikhLEAD New Jersey program which encourages civic engagement among Sikh students.
Additionally, Ms. Gill ran her own company and served as president and CEO of PARS Environmental, Inc., an environmental consulting firm in New Jersey from 2003 – to 2017. During that period the company experienced significant growth. In 2014, Ms. Gill was selected as "Small Business Person of the Year" by the U.S. Small Business Administration (SBA), representing the State of New Jersey at the National SBA conference in Washington, D.C. Ms. Gill was also selected among the Best 50 Women in Business by NJBiz and listed among the top 40 Entrepreneurs under 40 by NJBiz the same year.
Ms. Gill served as a board member of The ONE Project, an interfaith and community coalition organized to address social needs through education and volunteerism, and was the president and a founding member of Inspiring South Asian American Women (ISAAW) an organization dedicated to promoting civic and community engagement among South Asian American women. In 2018, Ms. Gill was named among the top 50 most influential people of color in New Jersey by ROI-NJ.
Source: Meet SALDEF Executive Director Kiran Kaur Gill – SALDEF